Splitter Beast
Villain
Affiliation
Beasts
Weapons
Lamp-post
Status
Unknown
Location
Below Antropolis City
The Splitter Beast is a beast that came from underground during the Invasion from Below.
History
After the hole in Antropolis city opened up, the Splitter Beast came out from underground. It chased William Furno through the city, and the fiery Hero lead it to Nathan Evo, who was in his Evo XL Machine. The two fought, and with the help of Furno, Evo managed to defeat it, yet the smaller beast of the pair left its larger partner and managed to capture Furno, taking him underground and leaving the larger Beast at the surface.
It is unknown what happened to them after the Invasion from Below.
Appearance
When combined, the Splitter Beast looks like it has two heads and wings.
When split, the bigger one has an orange head with black spikes, a massive black under bite, plasma claws, a tail, and wields a silver street lamp.
The smaller half has a blue head with a black spike, an over bite, a small black lower jaw, two small front arms, and two small black legs.
Set Information
Splitter Beast vs. Furno and Evo, a.k.a set 44021, comes with 108 pieces as well as Furno and Evo, the former wielding a fire sword and the latter wielding a lazer gun, and both wielding a chain.
The beast its self takes up 83 pieces, with the Heroes taking up 25.
Trivia
This is the first Hero factory set to have two heads.
It is also the only 2014 Wave 1 set with two Heroes.
It is the first Hero Factory set that can split into two.
Gallery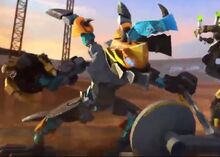 Ad blocker interference detected!
Wikia is a free-to-use site that makes money from advertising. We have a modified experience for viewers using ad blockers

Wikia is not accessible if you've made further modifications. Remove the custom ad blocker rule(s) and the page will load as expected.