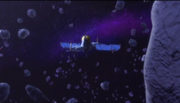 Sigma Sigma is invaded by Splitface when Splitface got in the Black Hole Orb Staff. Sigma Sigma was safe after
Mark Surge
caught and cuffed Splitface. And it was safe before Splitface got into the Black Hole. The two fire villains:
Jetbug
, and
Fire Lord
however freed Splitface from
Stringer
when Stringer caught up to Splitface.
Ad blocker interference detected!
Wikia is a free-to-use site that makes money from advertising. We have a modified experience for viewers using ad blockers

Wikia is not accessible if you've made further modifications. Remove the custom ad blocker rule(s) and the page will load as expected.