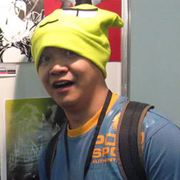 Elmer Damaso is a professional freelance artist who has worked for companies like Seven Seas Entertainment, Soda Pop Miniatures, Wildstorm, and DC Comics.
Biography
Elmer Damaso is most noted for his work in comics such as CAT'S TRAIL and UNEARTHLY.
During college, he and a bunch of friends decided to start a comic publishing business. One of them had the money and resources to accomplish the business stuff, while the rest had the skills to fill the art creation side of things. The business prospered for about six years, though it ended rather abruptly because of financial problems. But the locally-published work they made helped their careers by promoting their works and skills as artists. Elmer Damaso eventually went his own way thereafter and luckily landed other jobs related to illustrating.
A few years later, the same friend who had funded their local company before, had since made some contacts with comic book companies in the United States by attending conventions such as the San Diego Comic-Con. Eventually, Elmer Damaso was offered a working relationship involving an upcoming LEGO title, HERO FACTORY, where he has since illustrated the first five comics - The Trials of Furno, Core Crisis, The Enemy Within, Von Nebula(Being), and Ordeal of Fire.
Trivia
Elmer Damaso studied Fine Arts at the University of Philippines, Diliman majoring in Visual Communications. He regularly contributes to K-Zone Philippines and K-Zone Australia's "How To Draw" sections, as well as artwork for various other articles in their monthly publications.
External Links
Ad blocker interference detected!
Wikia is a free-to-use site that makes money from advertising. We have a modified experience for viewers using ad blockers

Wikia is not accessible if you've made further modifications. Remove the custom ad blocker rule(s) and the page will load as expected.